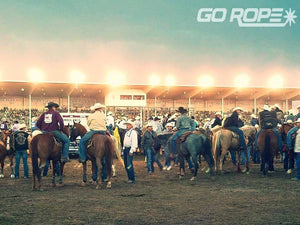 TO THE CONTESTANTS AT THE NHSFR….
The 2017 National High School Finals Rodeo is in the books. This morning, there are a handful of competitors who will wake up with national championship trophy saddles in their possession and smiles on their faces. On the flip side of that coin, there are some 1500 contestants who may be waking up this morning with a bitter taste in their mouth – a taste of goals not met and dreams dashed. The high school finals is an environment of palpable excitement throughout the week, but is also an event peppered with tears and broken hearts – results of broken barriers, missed cattle, a bad draw, or a tipped barrel. While I wish to congratulate the national champions crowned this week at the high school finals, those of you who suffered bitter disappointments this week are heavy on my heart this morning.
Chances are, you've had a lot of well meaning individuals give you hugs and sympathetic looks. They've said things like "there are bigger things out there than high school rodeo" or "no one will remember this a week from now" or "put it behind you and go on to the next one." Those words may seem hollow, but the sentiments are absolutely correct. As you get older you will realize that yes, there are more important things in life than high school rodeo. You will learn the importance of being able to put negative experiences behind you and not let them drain the positive from "the now". BUT…… In this moment, there might not be anything bigger and more important to you than high school rodeo. And regardless of what anyone says, you will remember the moment your national championship dreams slipped away for the rest of your life. You will remember the sting of defeat and taste the bitterness for a long time. You will probably replay those "bad" runs in your head over and over. You will think that winning or losing championships in rodeo defines you. I hope and pray that each and every one of you reading this realizes sooner than later that national titles, win/loss records, 19 second pole bending runs, 5 second team roping runs, and 8 second calf roping runs do NOT define you. How you handle the heartbreak and disappointments that life will inevitably throw at you will dictate whether you become a true champion or not. While victory is sweet, you will reflect more on, and learn more from, the agony of defeat.
My single piece of advice to you is this: If you're feeling the crushing sting of defeat this morning, let that be your motivator. But, don't just let it motivate you to work harder toward achieving the goals that are still alive in front of you. Let it also motivate you to maintain perspective and have a grateful heart in the face of disappointment. There are many people who LOVE you and who worked very hard right alongside you to get you to the high school finals. Those people are PROUD of you, no matter what the online results say when the short round has ended. You have great horses who have given YOU their trust, their love, and every ounce of try they have. You are blessed with God given ability and the opportunity to compete in the sport you love. I hope it doesn't take a tragic accident or loss for you realize what immeasurable blessings these are. I hope that the moments of disappointment you may have felt this week pale in comparison to the hours of fun you had, the people you met, and the memories you made. I encourage you to focus on the many blessings of your week at nationals, and never take for granted the abilities and opportunities you have to Go Rope.
~Jenny Gilbert
---